Quinshield Bund around high voltage transformer Hurst substation : Kent Quinshield have provided valued support in designing, manufacturing and installing a temporary bund system ,capable of holding over 100,000 litres of oil, to allow the replacement of a major transformer at a substation in the London area, to an extremely tight programme.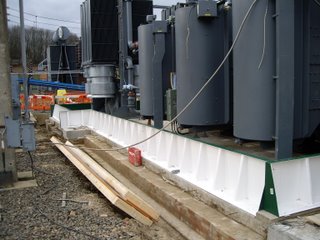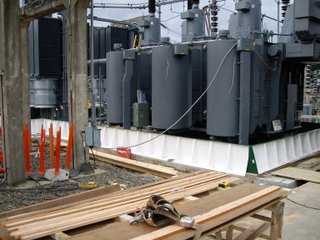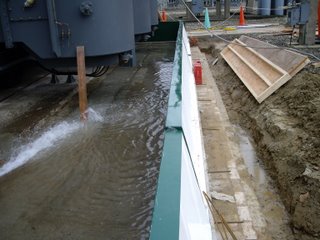 Bunds are generally used around storage tanks or drum storage areas where flammable or toxic liquids are held.  Quinshield developed a type of construction and method of installation that allowed this work to be carried out without the need for system outages. It was also thoroughly tested as illustrated below:
Completion of 24 hr water test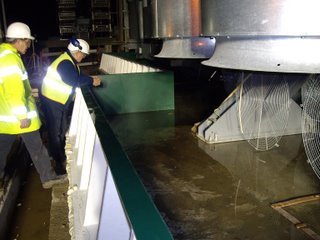 Quinshield provide a refreshing, innovative approach to resolving difficult and complex tasks….. and appear to relish these challenges which they consistently succeed in delivering both
technically and to meet financial budgets and project programmes. Their professional attitude is reflected from director level to the site operatives, who have to work within strict safety rules in difficult ,restricted working environments.[Source: NJP Environmental/National Grid]
Bund Containment
Temporary or permanent bunds can be installed and commissioned for water testing in ten to twenty working hours .This series of photographs demonstrates a GRP perimeter bund enclosing an area in excess of 120 sq.metres. The Quinshield solution and methodology is now registered and approved for all similar National Grid operations and requirements. Bespoke GRP Bunds Areas constructed up to 36 sq. metres. Larger bund solutions are available dependant on requirements. Bund wall height is usually up to 1metre. Typical pricing ranges from 159GBP per sq. metre excluding installation.